What is Include Me PreSchool?
The Include Me Preschool Program is a family engagement initiative.  Opportunities for increasing the capacity of inclusive practices in Early Intervention birth through beginners exist throughout the state. Include Me PreSchool is an answer to these opportunities. Currently, Include Me PreSchool consultants work with families at the state and local levels to increase their leadership capacity. The children, their families, and the program staff all benefit from this support. Include Me PreSchool is funded through grants from the PA Office of Child Development and Early Learning (OCDEL), the PA Bureau of Early Intervention Services and Family Supports (BEISFS), and others.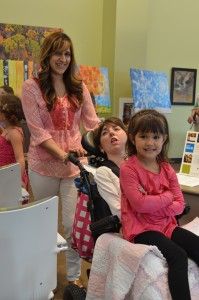 How can the BEISFS grant benefit my child?
Include Me preschool supports families in sharing their story with other families and with the Early Intervention community. Opportunities include programs such as P3D and C2P2EI, participation in family webinars, and more. 
How can I help as a Family Partner?
Family members are the most critical members of the team.  You provide valuable insights for your child's pre-school program and Early Intervention team.  Through your active participation, the working relationship supports all members of the team.  Your observations and feedback help your child's pre-school and Early Intervention programs create an environment where your child will thrive and learn.
What support is available if I do not live in one of the designated counties or IU's?
The Arc of Pennsylvania can offer information and resources for families. Visit our contact page to complete a request for assistance form, email Lisa Snyder, or call The Arc of Pennsylvania at 717-234-2621.   The Early Intervention Technical Assistance Portal is another resource available to families and professionals.
How do I request assistance if my child receives early intervention services in a designated IU, county, or CIZ zone?
Contact us at 717-234-2621 or email Lisa Snyder at lsnyder@includemepa.org.