Alexa's Home
Alexa Brill is a college graduate, advocate, and home owner. She also happens to have cerebral palsy. You can now view "Alexa's Home", a video sponsored by The Arc of Pennsylvania, which shows how Alexa lives independently with the help of techonology. 
Advocacy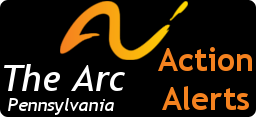 One of the main functions of The Arc of PA is to be a leader in advocacy for people with disabilities. If you are interested in learning more about advocacy, please read our Advocacy 101 article. 


Include Me
Include Me is an initiative started by The Arc of PA to facilitate the inclusion of children with significant disabilities in mainstream education classrooms. Click here to go to the Include Me website.
ADEPT
ADEPT is an exciting positive assessment and customized employment initiative of The Arc of Pennsylvania and Include Me. Click here for more information about ADEPT! 
Waiting List Funding Update
Executive Director Maureen Cronin had the privilege to join The Arc Alliance and their families in a meeting with Governor Tom Wolf. It was confirmed that this year's increase of intellectual disability/autism funding included no new funding to address the Waiting List, only covering the cost to continue services from the previous year. The great news is that the Governor recognizes the importance of reducing the Waiting List and we can expect a significant increase in funding for intellectual disability and autism funding in the Governor's February budget proposal. Please join The Arc as we focus on advocating for a substantial increase and for support from our General Assembly to pass the budget increase. Sign up (click "opt-in" box) to stay updated with our advocacy on the Waiting List.
PA ABLE Accounts
The Arc of Pennsylvania applauds Governor Wolf for signing SB 879, PA ABLE, into law as Act 17 of 2016. Act 17 allows the Pennsylvania Treasury Department to create and offer ABLE savings accounts in Pennsylvania. The Arc of Pennsylvania particularly recognizes Senator Lisa Baker who introduced and championed SB 879 and the hundreds of advocates who supported passage of PA ABLE. For more information on PA ABLE, visit our ABLE Resource Page.